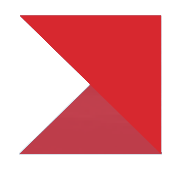 JEFFERSON COURT HOMES FOR SALE
Search All Homes For Sale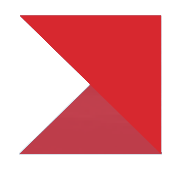 HOTTEST JEFFERSON COURT LISTINGS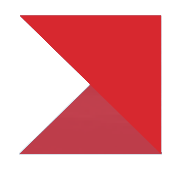 JEFFERSON COURT HOMES FOR SALE MAP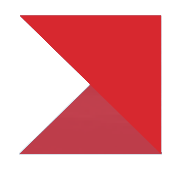 JEFFERSON COURT LOTS FOR SALE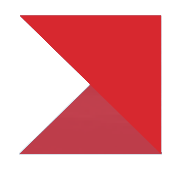 JEFFERSON COURT LOTS FOR SALE MAP
Save Thousands
Listing Your Home With 1% Lists
1 Percent Lists lets you save thousands of dollars selling your home by eliminating the older marketing strategies which are less effective and implementing cutting edge real estate SEO and maximizing modern marketing strategies all without losing the benefit of having an ACTIVE REALTOR in your corner.
SURROUNDING
NEIGHBORHOODS & SUBDIVISIONS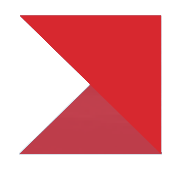 NEIGHBORHOOD DETAILS
JEFFERSON COURT, HAMMOND, LA
Jefferson Court is one of the many hidden gems that Hammond LA has to offer. The subdivision is located off of E. Adams rd., which is located five miles from I-55, I-12 merger. Jefferson court is in west Hammond, which lies 7 miles from both Downtown Hammond, and Ponchatoula. Being between the two areas gives the buyers options for shopping, fine dining, education, cultural public events, and many more.
Ponchatoula is home to the famous Strawberry festival, where people come from all over to enjoy the many fun activities while being able to highlight and appreciate the strong history of the area. Hammond offers so many wonderful outlets to its local residents such as fine dining like One Thirteen restaurant, Gnarly Barley Brewery, Chappapeela Sports Park, and The Brown Door to name a few; but Hammond's biggest attraction is the beautiful campus of Southeastern Louisiana university. Southeastern is an accredited four year university offering both graduate and undergraduate programs, and has an NCAA Division 1 athletic program. Jefferson Court offers buyers the best of both worlds; giving them the ability to soak in the essence of living in a larger country style home, while having the chance to do so in a subdivision setting, and still have a reasonable distance between your home and the city.
Jefferson Court has many different variations of homes as most of them vary in builder. The area offers 3-4 bedroom houses with the square footage ranging from 1980-2500 square feet. The homes that are currently available also have the advantageous perk of being on some of the bigger plots of land in residential Hammond, with spreads that vary from Half acre to 1.5 acres. Looking to build? Jefferson Court also has a plethora of large open lots ready to buy that also range in half acre to 2.7 acres. Jefferson Court has options for every buyer and could be the perfect fit for you and your family. 
Jefferson Court Subdivision Statistics
Median Sales Price of Jefferson Court Homes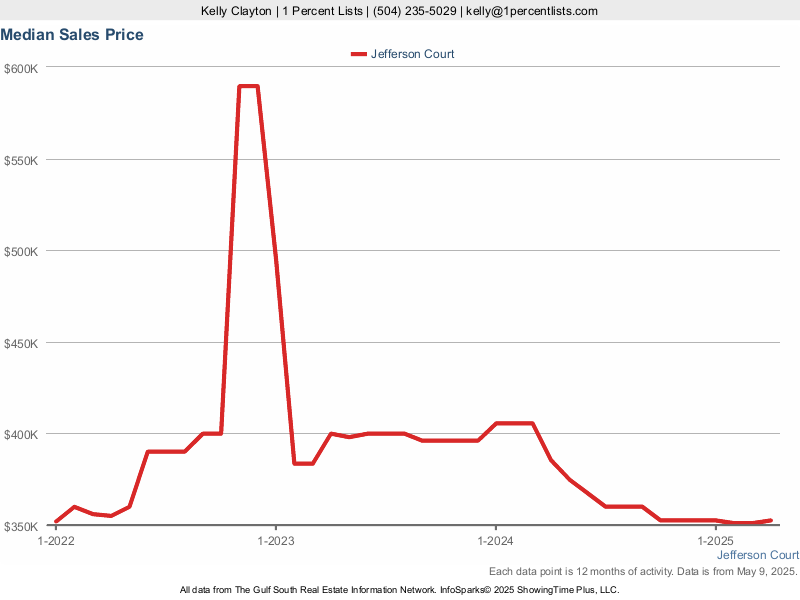 Closed Sales Price of Homes in Jefferson Court Subdivision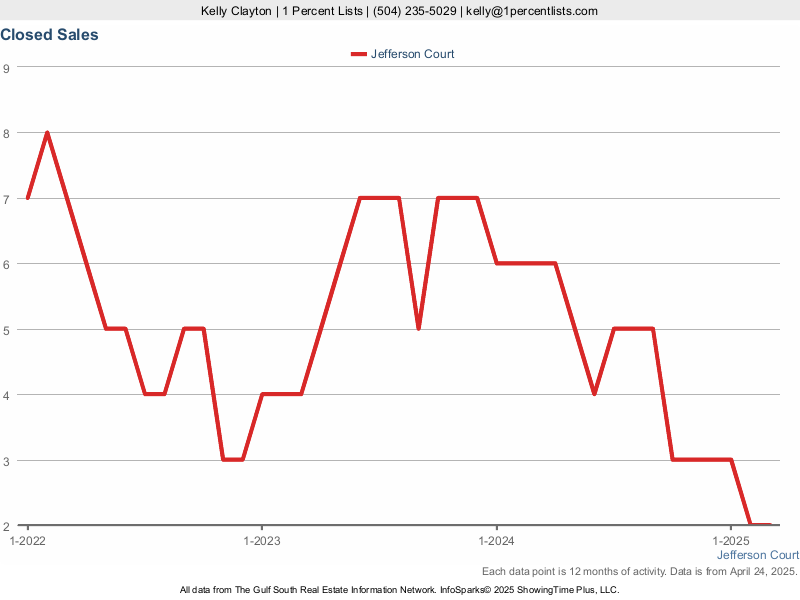 Median Days on Market for Jefferson Court Subdivision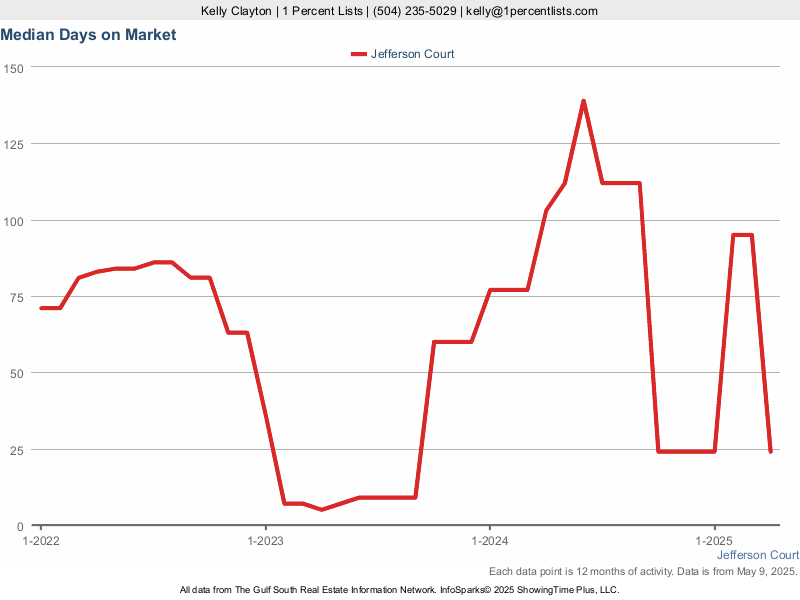 Months Supply of Properties in Jefferson Court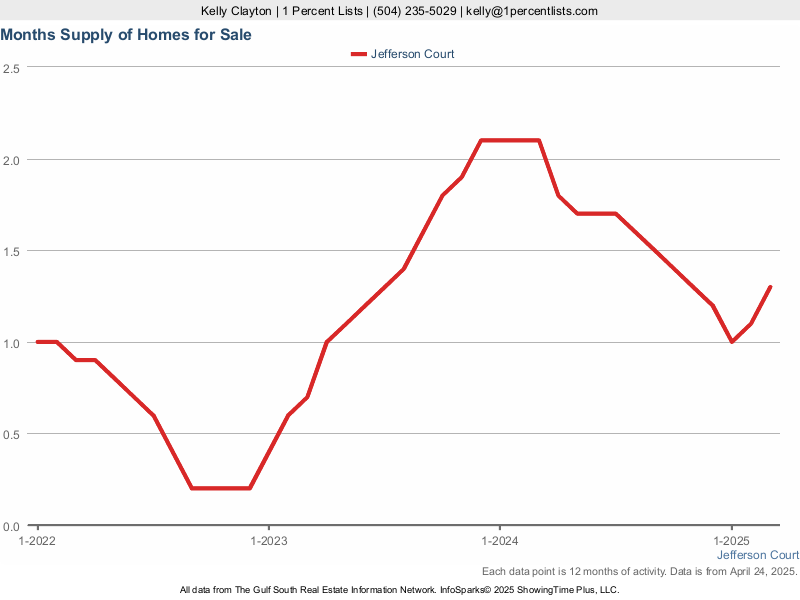 Median Price Per Square Foot in Jefferson Court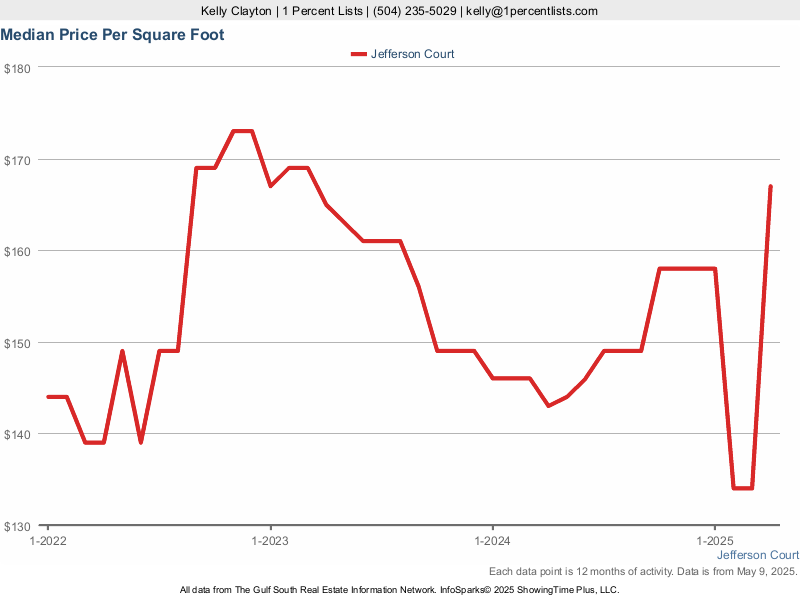 Established:

1994
Elevation: 27-34 feet
Price range:  $239,000 - $449,000
Size:
Inside City Limits:  No
Amenities: No through traffic
Parish: Tangipahoa
Flood Zone: No
Zoning:  Residential
Covenants:
HOA:
School Zone: D.C. Reeves Elementary School 4.9 mi, Ponchatoula Junior High School - 5.2 mi, Ponchatoula High School - 7.1 mi

Lots available: Yes
Roads: Asphalt
Curbs: No
Water:
Sewer:  Public Sewer
Gutters: No
Streetlights: Yes
Fire hydrants: Yes
Underground Electric: No
Through Traffic:  No
Transportation options: Minutes away from Interstate 12 & I-55