Mandeville Homes for Sale - Mandeville Real Estate
Take a look below to view all homes available in Mandeville! Search below for all properties available in Mandeville La. Please contact us for any showings or questions about your dream home!

Homes For Sale In Mandeville La
If you would like more information on any of these Mandeville real estate listings, simply click the "Request More Information" button when viewing the details of that property. We can provide you with disclosures, past sales history, dates and prices of homes recently sold nearby, and more.
Have Questions? Get in touch with a 1 Percent Lists real estate agent today.
And, if you haven't already, be sure to register for a free account so that you can receive email alerts whenever new Mandeville listings come on the market.
Why Live In Mandeville?
Mandeville is a beautiful town just across Lake Pontchartrain, north of New Orleans. The city of Mandeville has over 12,000 residents with plenty more in surrounding neighborhoods just outside the city. Due to fantastic school systems and proximity to the New Orleans metro area, Mandeville has a robust real estate market.
Mandeville Real Estate
There are many great neighborhoods and subdivisions to choose from in Mandeville with homes ranging in age from the late 1800s around the lakefront all the way up to brand new construction. Homes in Mandeville tend to move pretty fast due to the great schools, low crime rate, and close proximity to New Orleans. Homes range in price in Mandeville from below 150,000 up to well in the millions.
Great Schools Drive Real Estate Values
Mandeville's many blue ribbon public schools is a huge draw for people looking to buy a home on the Northshore. With the cost of private schools in New Orleans being so expensive, the desirability of the Mandeville school system plays a large part in the strong real estate market and the overall demand for Mandeville housing. Mandeville's public school children wind up as graduates of Mandeville High as a Skipper or Fontainebleau High Bulldog.
Mandeville's fantastic public school system is a huge draw for families all over southern Louisiana. Virtually all of the north shore public schools are very highly rated and compete favorably with expensive private schools on the south shore.
With private school tuition climbing up to over 10,000 per year in some cases, moving to the north shore to take advantage of fantastic "free" public schools winds up being a wise financial decision for many who are considering relocating.
Living in Mandeville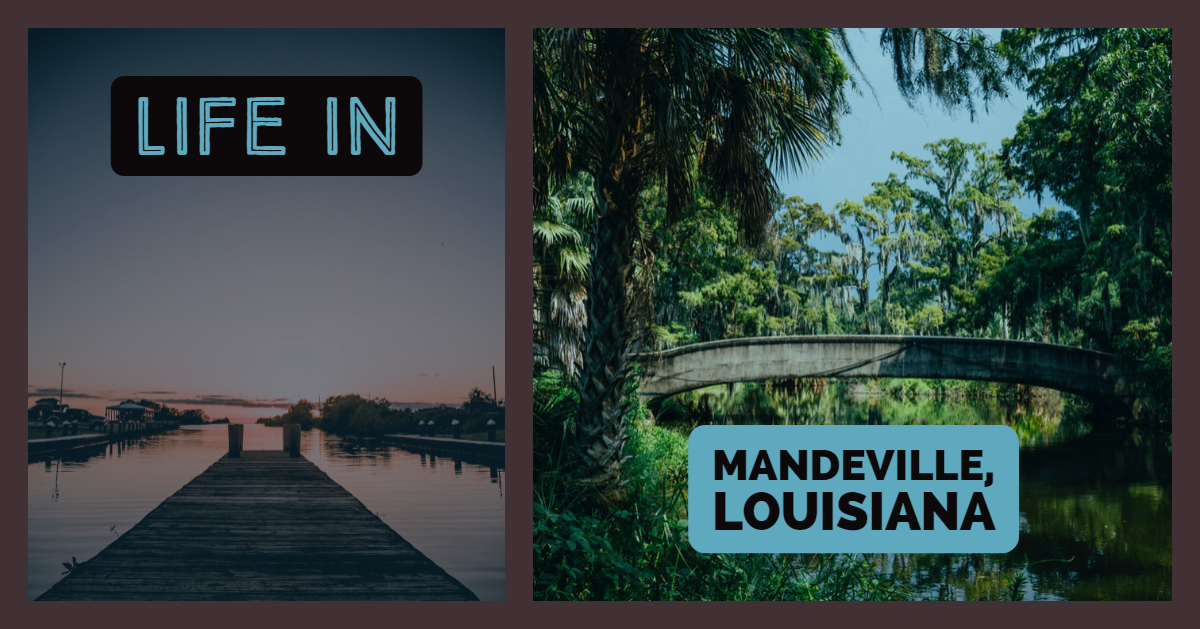 What To Expect In A Mandeville Lifestyle
Founded in 1834 and incorporated as a city in 1840, Mandeville is recognized as the oldest inhabited locale in St. Tammany Parish. Listed in 2004, 2005, 2007, 2008, and 2009 as one of the Relocate America's Top 100 Places to Live, this small town has plenty to offer anyone planning to buy a home here.
Checking with a local Realtor is the best source of finding exactly the right home. The same is true if you wish to sell a home.
Mandeville Early History
Nestled along the north shore of Lake Pontchartrain, Mandeville was looked upon as a playground for the well-to-do of New Orleans. A steamer made the daily run between here and New Orleans, ferrying those wishing to get away from the heat, dust, and noise of the big city to an area of peace and tranquility.
Many chose to build vacation homes here, spending weekends, holidays, and summers near the cool waters of the lake. The middle-class soon followed their wealthier neighbors and the town began to grow and thrive. Long known for its jazz, New Orleanians brought the music with them when they crossed the lake; several pavilions and dance halls were built to accommodate the bands and jazz artists who came to play.
Two of those early jazz halls still stand today - Ruby's Roadhouse, and the Dew Drop Jazz and Social Club. The latter is listed on the National Register of Historic Places.
Lifestyle
When the Lake Ponchartrain Causeway bridge first opened to traffic in 1956, many chose to flee the city and permanently settle in what is now known as a suburb of New Orleans.
The 24-mile-long commute was an easy trade-off to be able to live in this peaceful lakefront suburban area where the lifestyle was much more relaxed and laid-back.
Living on the lake, one would naturally assume the lifestyle trends more to outdoor activities and that assumption would be correct. Sandy beaches for lazing and swimming, a marina for boaters, and nature trails through the bird sanctuary are all close at hand, as well as the 31-mile-long Tammany Trail for cyclists.
A walking path meanders along the lakefront, shaded by massive moss-draped oaks, with benches scattered along the way to sit and enjoy the scenery.
Residents with a passion for sports can get all the recreation time needed at the popular Pelican Park athletic facility. The park was created by a handful of volunteers in the Mandeville area who identified the need for a facility dedicated to all sports for both adults and youth. The first sections of Pelican Park were opened to the public in 1990. Since then the facility has grown to include 32 athelitic fields, 2 gyms containg 7 basketball/volleyball courts, a golf course, parking lots, and the 46,000 square foot Castine Center. With almost 40 full time employees and hundreds of baseball, football, soccer, and basketball teams utilizing the park it has become an amazing member of the community welcomed by all.
The population of slightly more than twelve thousand manages to maintain its small-town feel while offering many big city amenities - excellent schools, healthcare, numerous churches, festivals of many descriptions, and restaurants that serve up both local and international cuisine.
Mandeville Real Estate
A slight dip in real estate pricing was recorded recently, but the market is strong and has been mainly steady over the past several years. With cottages, condos, apartments, and single-family homes for sale to choose from, Mandeville has something to suit every taste and need.
Large lots, gated communities, and strict environmental building codes help maintain the ambience of the area. Cottages, of course, are less, while the larger comfortable lake-front homes are priced more at the top end.
Buyers can expect a median price range around $325,000, while renters can expect an average rental rate of $1,000. Speak with your local real estate agent for the best source of information about buying and selling a home in Mandeville
Mandeville Real Estate Then vs. Now
Mandeville at one time was an escape for people living in New Olreans. With not much more than a grocery, a gas station, and single lane roads, Mandeville was a quiet are where you could get out of the noisy city. Since then, Mandeville has grown at a fast rate. With boutique stores in new shopping centers and top notch restaurants poping up all over, Mandeville is no longer the quiet little town it once was.
Living in Madeville has changed much in the years. Although, there are still a few slightly hidden, off the path areas of Mandeville that might be perfect for many. Living in the area has a lot to offer from the beautiful lake front and parks, to the marinas spread out around the shores of the lake and back on the bayou.
The constant inflow of people looking for a quieter suburban lifestyle and cost-effective public schools creates a continuously strong demand for Mandeville's housing market.
Due to this consistently strong demand, housing prices in Mandeville see a regular steady rise, with the average days on the market lower than the national average.
Reasons to Buy a Home in Mandeville
There are many amenities to enjoy in Mandeville. Fontainebleau State Park with massive old live oak trees, walking trails, RV parking, and a white sand beach is always a great spot to spend an afternoon.
Old Mandeville has the "trailhead" with many great local restaurants serving unique creole food and local craft brews. Mandeville even has a thriving sailboating community with the Pontchartrain Yacht Club, and also excellent fishing in the lake, as well as the neighboring Tchefuncte River. Beau Chene is one of the premier neighborhoods and features two 18 hole golf courses.
History of Mandeville
The town of Mandeville was formed in 1834 by Bernard Xavier de Marigny de Mandeville better known by his more shortened name of Bernard de Marigny. Mandeville quickly became a summer retreat for wealthy New Orleanians who wanted a rural setting to escape from the hustle and bustle of the city.
As tourist travel demands continued to spike and eventually a steamboat began making the daily pilgrimage across Lake Pontchartrain between New Orleans and Mandeville. These ships became well known for fantastic jazz shows, and Mandeville itself turned into a very well known location to listen to early Jazz artists like Buddy Petit, Bunk Johnson, and many others.

As demand for easy access to Mandeville and "the Northshore" continued to escalate the state of Louisiana finally began work on the Lake Pontchartrain Causeway, one side of which was completed in 1956. The second span was opened in 1969, and the opening of the two created tremendous growth in the Mandeville economy and real estate market.
Mandeville's Real Estate Market
The real estate market in Mandeville is continually bolstered by the many commuters who cross the Lake Pontchartrain bridge to work in New Orleans and Metairie.
Multiple Housing Options
The ability to buy affordable housing with a nice yard is a huge attraction to many home buyers who make the daily commute. There are plenty of options in Mandeville with quick access to the bridge ranging from condos and garden homes as low as 70,000 up to luxury estate homes priced well over one million dollars all of which are just minutes from the bridge.
Subdivision Based Real Estate
As a newer area (relative to New Orleans) many of the Mandeville homes are in a subdivision. Subdivisions provide consistency of home designs and property values. Many people searching to buy a home on the Northshore, find themselves picking their destination by subdivision.
Search Homes for Sale in Mandeville's Most Popular Subdivisions
Real Estate in Mandeville After Katrina
The destruction of Hurricane Katrina proved to be a tremendous spark for the Mandeville real estate market. Surrounding cities were heavily hit by the storm and would take years to recover, but Mandeville remained right on the edge of the worst damage. This left the homes in Mandeville mostly "high and dry" and ultimately satisfied the tremendous demand for housing after the storm.
Mandeville's Awards
Relocate America has voted Mandeville as one of its top 100 places to live in 2004, 2005, 2006, 2007, 2008, and 2009. Google also awarded Mandeville with its eCity award in 2013 as a city whose small business community was most effective at using the internet to attract more customers. Mandeville is consistently in the top three for best cities to live in Louisiana.
Contact A Mandeville Realtor
Mandeville Real Estate Market Statistics
All of the below real estate market statistics were taken from the local MLS, which is the best source for real estate data. All of the reports are from January 1, 2018, through December 1st, 2018 and is based on closed sales.
All of the below stats are using MLS areas 201-209, 211, 212, 213, 215, and 223. Although some Covington properties and others may be included, we are referring to the above MLS areas as the "Mandeville real estate market" as Mandeville is the North Shore's epicenter and economic driver.
If you would like a detailed statistical review of your Mandeville area, we would be happy to provide that for you. Just contact us here.
Months of Inventory for Mandeville
"Months of inventory" is a commonly used perspective from which to view the local real estate market. Months of Inventory conceptualizes how long it would take to sell the existing "for sale" homes already on the market, without adding any new ones until everything is gone. Simply, it's how long it would take to sell through the current inventory of homes. The key when analyzing this report is to understand that the rate of absorption is based on how many homes in the Mandeville area were sold. Although months of real estate inventory can be shown using different numbers, we are using closed sales for our data.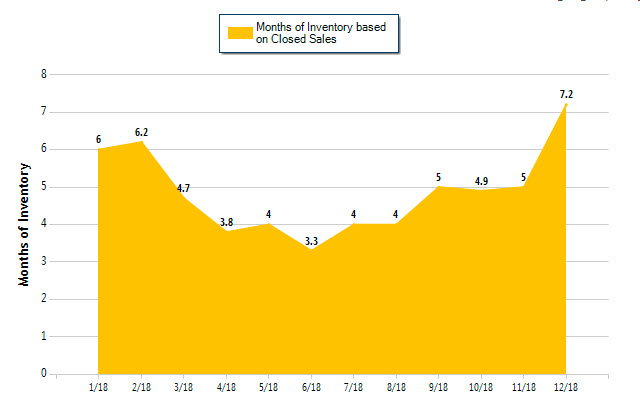 When looking at the months of inventory, the smaller number represents more demand for housing and a smaller supply of homes for sale. Since the amount of inventory changes with the cyclical aspect of real estate you can see the most demand for houses for sale in Mandeville is in June.
Mandeville Median Sales Price
Another commonly referred to real estate metric is the median sales price. Median Sales price differs from Average Sales Price, which can be easily manipulated by a spike in REO properties or an unusually expensive home sale. When looking at the median sales price of homes in the Mandeville area we are looking at a factor of the equal number of homes are sold above or below that price. If the Mandeville property's listing price is closer to the median price, then there are more potential buyers available for the property.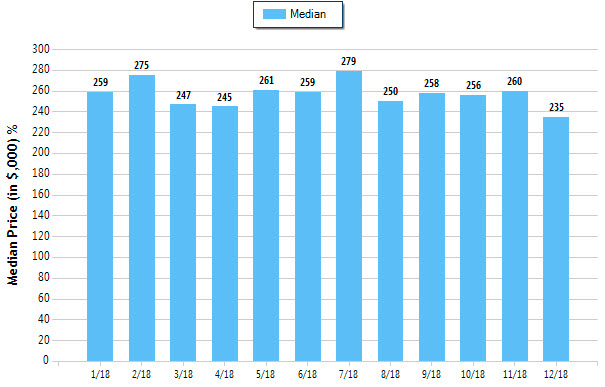 Mandeville Average Days on Market
Another common real estate value reviewed, especially when listing your home for sale, is the Days on Market or DOM. The DOM shows how long the average Mandeville area home is actively for sale before going under contract.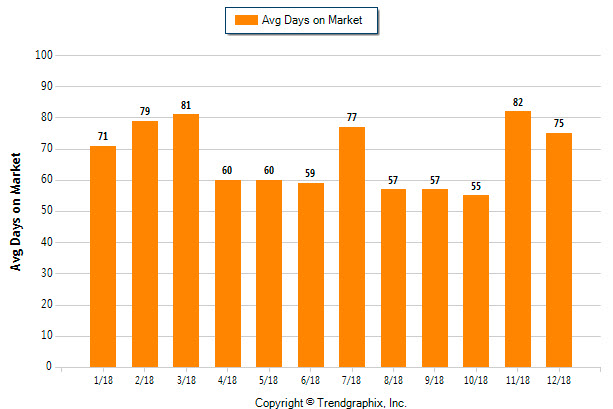 Average Price Per Square Foot
Average price per square foot is a quick way to look at a home's value. Although if you want an accurate value on your Mandeville property, there are many more factors that go into it. The below chart is showing the Average Price per Square Foot of SOLD homes in the Mandeville area.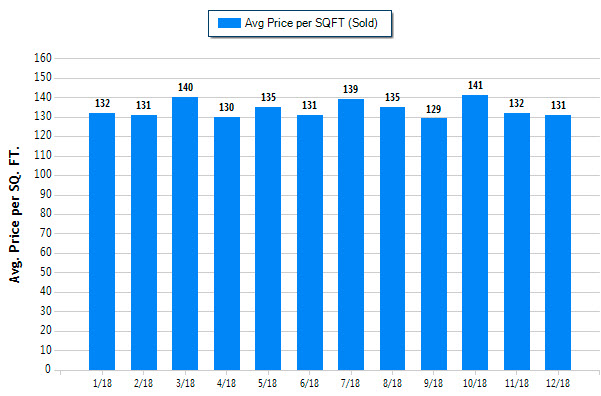 All real estate statistics on this page are published January 2019, based on data available at the end of December 2018. All reports presented are based on data supplied by the New Orleans Metropolitan Association of Realtors/ Gulf South Real Estate Information Network - GSREIN.
Neither the REALTOR Associations nor their MLSs guarantee or are in any way responsible for their accuracy. Data maintained by the Associations or their MLSs may not reflect all real estate activities in the market.
Information deemed reliable but not guaranteed.